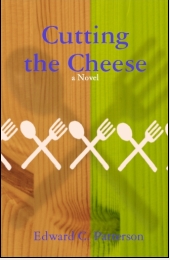 Now Available - Cutting the Cheese: a Novel by Edward C. Patterson
ASIN: B0010K2ER6
Available in Paperback at Amazon.com and at CreateSpace

(Also available in Kindle Edition at Amazon.com)
http://www.amazon.com/dp/B0010K2ER6
Read the first 2 Chapters for Free. SAMPLE
Cutting the Cheese — Jacket Notes

Edward C. Patterson's Hilarious Romp through the Pink Halls of Political Correctness

Welcome to New Birch and to Roy Otterson's palatial mansion, which is opened to a meeting of the Gay and Lesbian Activist Association of New Birch and Sipsboro (GLAABS), your normal, run of the mill organizations, pledged to the betterment of their alternative community and the advancement of social issues. Right. Social issues, my . . . Well, you might think so until you step across the Otterson threshold and savor the horny, hilarious antics of this upwardly motivated crowd of mixers. Who wants who? Who has who? How does one really decide who gets ahead in this race for queen's crown. Cutting the Cheese is a self-effacing, comic romp through the Gay hierarchy, based on the author's own provocative experiences in a world drizzled pink—a quick and outrageuos ride down the funny bone that you will not soon forget; and will want to ride down again and again. Welcome to New Birch, where its every one for themselves under the disco ball.